When two soldiers from opposite sides of a never-ending galactic war fall in love, they risk everything to bring a fragile new life into a dangerous old universe.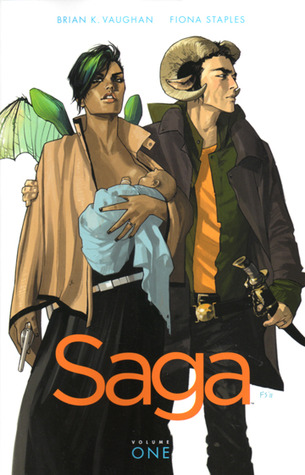 The issue I have with reviews is that I am officially terrible at them. I never pinpoint literary merit and everything is about the feels. So if you read my site for very profound reviews on subtext you are so not gonna get it.
I was introduced to Saga by a great friend who loves to make fun of what I read and do not know. LOVES TO. Rightfully so, as Saga is an amazing piece of work. The family dynamic between the war torn characters is interesting in that you can feel the tension of their romantic allegiance. Their love is actually a death sentence not because it is illegal, but because it is an unthinkable act that their factions can't side with. I get the hint that perhaps the war between the worlds has been going on for eons for a profitable reason and no one side wants to show that fences can be mended and everyone can be united. However, there is hope. Literally, their offspring Hazel who is born not just a child on the run, but a symbol of what could become.
Saga holds nothing back, saves no one for the merit of saving, and you get the sense that every decision has a real consequence. I cannot wait for more issues and volumes to arrive and they have definitely gained a faithful reader.
Have you read Saga? What did you think? Are there any other comics out there with the same awesome art/story telling? I am really digging, finding new stuff to dive into right now so I am all ears.